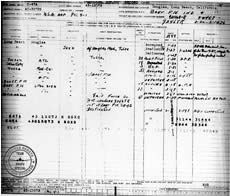 The Douglas C-47-A-80-DL, c/n 19539, is delivered by Douglas company at Long beach, California, on 29 january 1944.
She is assigned to the 8th US Army Air Force on 29 February 1944 with serial number # 43-15073 then, at the beginning of May 1944, to the 9th US Army Air Force in the 95th Troop Carrier Squadron (Squadron code 9X) of the 440th Troop Carrier Group based at Exeter, England.
She is nicknamed by her crew «The SNAFU Special» painted near the cockpit window. S.N.A.F.U. is the acronym of «Situation Normal : All Fucked Up».


Type : Military transport & glider tug.

Powerplant : Two R-1830-92 1,200 hp Pratt & Whitney Twin Wasp 14 cylinder dual row, air cooled.

Characteristics :
Wingspan: 95 ft 6 in
Length: 63 ft 9 in
Height: 17 ft
Wing area: 987 sq ft
Empty weight: 17,865 lbs

Performance :
Range: 1,600 miles
Cruise speed: 160 mph
Max speed: 230 mph
Ceiling: 24,000 ft

Load : Crew of 3 + 28 passengers - 8,600 lbs